Super Radiator Coils' Richmond, Virginia division is expanding! We've shared a few updates on the subject on our LinkedIn page, but we wanted to provide a more detailed rundown for anyone interested. So, we sat down for a Q & A with our CEO, Rob Holt, to talk all things expansion: why we're expanding, why now, and what it means for Super Radiator.
Q: First, let's talk a little background. What is the "origin story" for SRC's Richmond division?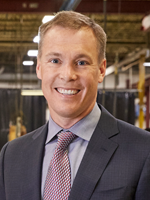 RH: "Back in 1980, they decided to build [SRC Richmond]. It was actually a separate company under McQuay that was going to service a similar model [as SRC Minnesota], but on the East Coast. They were mimicking the Midwest success and they picked Richmond.
At the time the facility was about 25,000 square feet. So, when my dad bought [Super Radiator Coils] with what is now Norwest Equity Partners, they kind of threw the deal in for free because it was losing money - a lot of money in fact.
It's now our largest operation in terms of people and volume. We've got over 18 acres in our current site. Over time, we've bought property around us to be able to grow.
SRC President and CEO, Rob Holt
This is our third expansion project under the current ownership. We've been a member of the Midlothian community since 1980, and back then there wasn't much out there. It was mostly just forest and we've watched Midlothian grow up around us. It's been a fantastic relationship with the county and the state."
Q: From an unprofitable freebie to the company's highest-volume division, that's quite the change! If you had to point to one or a handful of changes/decisions that you think really helped turn things around, what were they?
RH: "There were three key areas: sales, operational excellence and reinvestment. The sales strategy at the beginning was anemic. There was the thought of 'if you build it, they will come.' But there wasn't a very good revenue strategy. The second thing is that the operation wasn't making high-quality products. So, if you find a customer, but you don't ship on time or with the highest quality, then you're not going to see a repeat customer.
And the third thing is there was just an operational attitude about investing in the business. For the first 5-7 years under the new ownership, all of the money went back into the company to help it grow."
Q: As the Richmond business has grown, what was your "we're going to need a bigger boat" moment?
RH: "Well, there have been three. The first expansion was in 1992 and that was when we took the 25,000 [square feet] and made it 50,000. The second expansion was in 2001, and that's when we took the 50,000 and made it 100,000, and we've filled that up, so now we need to build another 56,000 to take on the work that's coming in and we've got a plan to add another 60,000 square feet or so if we need to as well.
I think what we're seeing is that people like our service model and they like our ability to grow and service different heat transfer products. We're in the heat transfer business, but the goal is that people come to us with a problem and we help them solve that problem. It could be something in delivery, quality, design, or engineering, and we just listen and try to help. That's been the recipe for us… and I think that State of Virginia is easy to work with and there's a great labor pool and a great culture for us to bring people into the organization."
Q: Why now?
RH: "I think that coming out of COVID, there's going to be some demand. I think we're seeing a lot of activity in manufacturing. What we've seen through COVID is that there are some supply chain challenges stemming from having international vendors and suppliers, and I think there's going to be an opportunity for a domestic manufacturer to grab some market share.
We were able to grow over the last 6 or 7 years in Richmond and we really haven't gotten started…it's kind of just a timing thing. You need to have that infrastructure in place for when the sales hit. I think things are going to be pretty strong here for the next 3-5 years."
Q: What are some details of the expansion? What exactly are we adding?
RH: "It's 50,000 square feet of factory space and about 6,000 for employee amenities. We've always wanted to attract good people and you can't do what we do without people in the organization putting their best foot forward.
In Richmond currently, we don't have a formal locker room space. We don't have a lunchroom that's quite big enough. Things like parking can be an issue. So, we're trying to build out these things to make sure our people can get to work easily, be comfortable at work, and feel safe. Having a good building with good bones is critical to that and we really want to make sure that we can support a great environment for our employees because they put so much effort into what we do.
Q: Could you reflect some on how SRC navigated the COVID-19 pandemic and how it informed your decision to expand?
RH: I think we're living a new reality. And I think there are expectations of employers and employees to take care of each other…I think there was a reset, where people are grateful for the companies that helped them through this. I think that we did a pretty good job of that. As an essential manufacturer, we stayed open, we took care of each other and we tried to make the right moves.
A lot of fear was going around, there was a lot of unknown. I think some of that will subside once we understand the virus better and what we've got to do to protect ourselves. And there's some stuff that's just going to be unknown. As we go forward, we're going to have to continue to be flexible in how we do what we do to take care of our people. I don't think we're going to go back to where we were. I think it's all evolving still.
…One of the things I'm really excited about is that we're leading an initiative to talk more about stakeholder value than shareholder value, and we're using a model called conscious capitalism to talk about that. What are we doing in the environment, the community, the suppliers, the customers, the employees? Capitalism's not going to survive with the mentality that only shareholder value matters, it's got to be stakeholder value. And as we come out of COVID, that's a new paradigm and I'm excited to explore that as a member of the manufacturing community."
Q: SRC Richmond will look quite a bit different after this expansion. What does the future look like for SRC?
RH: "We're moving from a small company to a mid-sized company, and there are certain things that we have to do to be able to survive as a mid-sized company. As we talk about the expansion in Richmond, we're adding dozens of people, and that's getting to be a pretty large organization. What are the challenges that we have to overcome to be able to support those new employees as they come in and we onboard them and make them a part of our culture and our values so that they embrace what really matters to Super Radiator so we don't lose how we got here?
Don't get left out in the cold when it comes to heat transfer information. To stay up to date on a variety of topics on the subject, subscribe to The Super Blog, our technical blog, Doctor's Orders, and follow us on LinkedIn, Twitter, and YouTube.