We're super excited to announce that we've validated the performance ratings for R-449A and R-448A condensers in Enterprise, our coil selection software. We believe the condenser coil performance model we've developed is the most comprehensive and accurate of its kinds in the industry.
We wanted to use this post to briefly explain our testing methodology to our users. We'll also touch on why performance modeling for these refrigerants has been challenging in the past, and how we plan to improve our model over time.
Testing methodology
Our condenser performance calculations for R-449A and R-448A were validated through the work of our excellent team of testing engineers and lab technicians led by myself, Dr. Jian Yu. We tested a total of nine condenser coils over the course of six months in our Richmond facility's wind tunnel test lab.
The challenge
R-448A and R-449A were developed as replacements for popular low to medium-temperature refrigerants R-404A and R-507C, the environmental impacts of which stand in conflict with today's environmental policies on refrigerants. The chart below compares the environmental impact – measured in global warming potential (GWP) – of R-404A and R-507C to their next-gen replacements.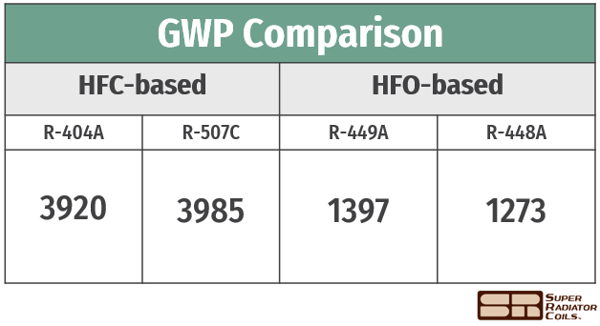 Both R-449A and R-448A are HFO-based refrigerant blends, composed of four and five parts, respectively. Their makeups are listed below.
R-449A
R-125 (25%)

R-32 (24%)

R-134A (26%)

R-1234yf (20%)
R-448A
R-32 (26%)

R-125 (26%)

R-1234yf (20%)

R-134A (21%)

R-1234ze (7%)
Both R-449A and R-448A are zeotropic blends, meaning their constituent refrigerants boil at different temperatures, resulting in some temperature glide. Both refrigerants' temperature glides are plotted below. This fact and a lack of reliable testing data are the primary reasons why accurate performance modeling has been difficult. However, we believe our new model accurately factors in those added variables.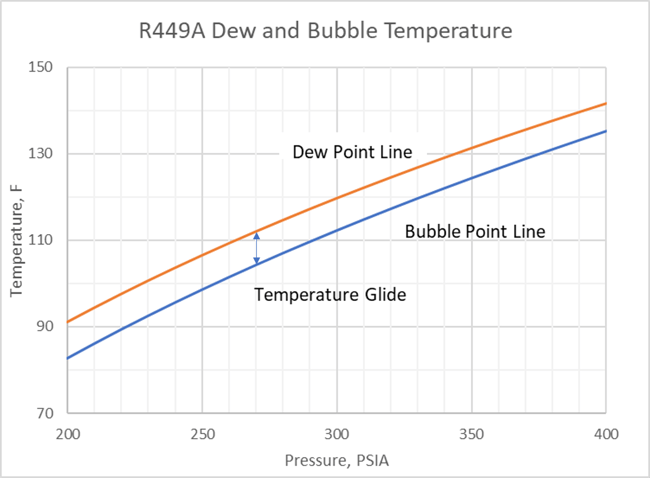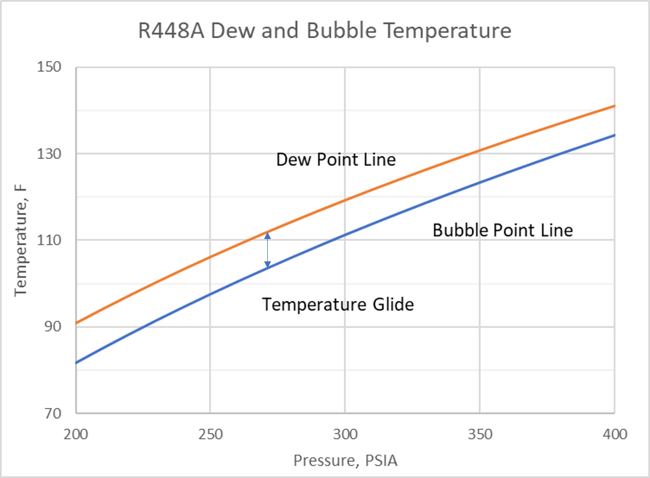 What's next?
Our next steps will involve a series of different tests to further expand our understanding of how these refrigerants behave under certain conditions within certain materials and diameters of tubes.
This will take place in our tube-side heat transfer lab. There, we have begun testing on R-449A, R-448A, and R-454B to examine their heat transfer characteristics under tube-side condensation conditions. This research will include testing smooth and rifled tube and the resulting data will help improve the accuracy of Enterprise's performance modeling formula.
Don't get left out in the cold when it comes to heat transfer information. To stay up to date on a variety of topics on the subject, subscribe to The Super Blog, our technical blog, Doctor's Orders, and follow us on LinkedIn, Twitter, and YouTube.