Our Spotlight on Super blog series highlights the SRC team members that help keep SRC a great place to work and grow. For this installment, we sat down with Steve Magnuson, a longtime header brazer who works at SRC's Minnesota Division.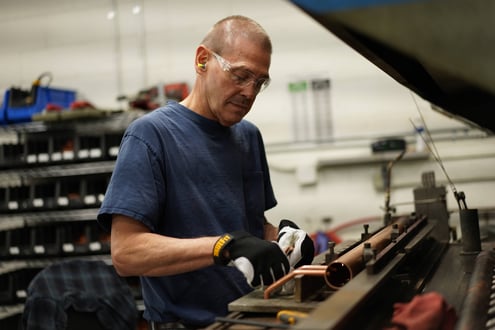 Q: Where are you from, Steve? Where's home?
SM: I'm a Minnesota native – been here all my life. I don't really love the cold, though. Some people up here wear the cold as a badge of honor, but I never have.
Q: How long have you been working at SRC?
SM: I signed on in August of 2007, so it's been a little over 15 years. I came on as a header brazer and that's what I do today, too.
Q: So, tell me about the story of how you came to work at SRC. How'd you first learn about the company?
SM: Well, before Super, I worked as a header brazer for a different company in the area. They made entire units and made their own coils at their shop, which is the department where I worked. I did that for 23 years until that company decided to move its operation to a different state. So, I started looking for a new place to work and SRC was pretty much right down the street, and I liked the idea of not having to really change my commute or anything, so it made a lot of sense for me.
Q: Have you always wanted to work with your hands?
SM: Oh yeah – I was born on a farm in western Minnesota. I've always worked with my hands and would rather do that than doing stuff like paperwork at a desk job, that's for sure – and I'm no good at it anyway. But yeah, growing up I was always taking shop class, that sort of thing.
Q: What do you enjoy about working at SRC? What has kept you here for the last 15 years?
SM: I love that it's not boring. It's different every day and I don't come into work and do the same thing all the time. It's all brazing headers, sure, but it's different headers each day. My favorite stuff to work on is the bigger headers that can get a little complicated. You really have to think about what you're doing. I also braze for our nuclear program.
Q: And what's the working environment like? How would you describe it to someone who may be considering applying at the company?
SM: As someone who works with a torch every day, I really appreciate the fact that the shop has A/C. And it's a clean shop, it really is. And coming in every day to a clean shop that's comfortable, it makes you feel taken care of. It makes work just a little easier.
Q: How has the Minnesota Division of SRC changed in your time with company?
SM: Well, there are certainly a lot more people nowadays! But I'd say the addition of the nuclear program around 2012 was one of the bigger changes I saw, which was really neat. In the header brazing department, there are definitely more people, too and a lot of new folks are among that. I've helped with training when I can, usually when our lead trainer is out and things like that, but we've really been growing. And when you're in a company that's growing, it's really nice. There's no worrying about if we're going to be busy or things like that. It's been good.
Q: If you had to sum up your experience at SRC, what would you say?
SM: It's good work for me personally because I enjoy the variety. If you're someone who wants to do different things when you're at work – learn different roles, move departments, that kind of thing – you can do that here. And it's a welcome environment.
Q: So, that's the story of Steve the employee. What about when you're not at work? How do you like to spend your time?
SM: I really like to travel when I can. I love to go hiking and visit state and national parks, that kind of thing – I went to Arizona last winter. I've also got two grandsons who are big into sports: basketball, baseball, flag football. So, I go see a lot of their games. And even though I don't like the winter, I've been doing some snowshoeing. I used to play basketball but now I'm getting too old. I'm a big Timberwolves fan, too.
If you'd like to know more about working at SRC, be sure to stop by our Careers Homepage to learn more about who we are, what we make, and where we work. And stop by our job listings page to see our open positions. Manufacturing experience is preferred, but not required. If you've got a positive attitude and a good work ethic, we'd love to hear from you. Thanks for reading.