Our Spotlight on Super series highlights the SRC team members who help keep SRC a great place to work and grow. For this installment, we sat down with Sommai Prommachai, who has spent 17 years as a brazer at SRC's Chaska Division and was recently promoted to a training role.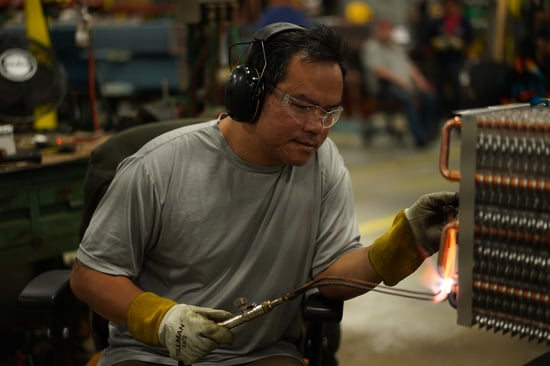 Q: Where are you from, Sommai?
SP: Well, I was born in Laos, but we moved to Thailand in 1980 when I was a little kid. We were refugees. I don't have much memory of Laos. I remember Thailand, though. I was there for about 10 years. Then we moved from Thailand to Green Bay, Wisconsin and then we moved to Minnesota.
Q: I'm sure moving from Thailand to Green Bay was quite the change. Was that a difficult transition?
SP: Oh yeah, it was pretty tough. We didn't know how to speak English. We didn't really know too much about where we were going. It was kind of like a brand-new world. But we settled in – it was just cold at first! But Minnesota is home now. We've been here since 1994. My family is here.
Q: How did you first come to learn about Super Radiator Coils?
SP: Before SRC, I was a setup technician for another manufacturer in the area. And that company decided to move out of Minnesota – so I was looking for a job. My brother worked for SRC at the time, and he referred me. I didn't know much about the company, but I needed work, and my brother and a few other friends told me it was a good place. And I just felt like I fit in. Now my younger brother works here too, so there are three of us here.
Q: So, tell me about the job you do at SRC. What does a typical day look like?
SP: Well, as a coil brazer, I check the orders on the schedule and just make myself available to work on whatever jobs the brazing lead needs me on. I'll support the tougher jobs – I work with copper nickel and some of the trickier metals pretty often. I'm also one of our approved brazers for our nuclear program. Recently, like in the last three months, I've been doing more training, too. That makes me feel good because the managers like the work I've done and I think they trust me, so I like that.
Q: What do you like about working at SRC? What are some reasons that you've stayed here for 17 years?
SP: I just love how there's something new to do every day and there's always something to learn. There are big coils, there are small coils, there are big headers, small headers, distributors – and it's all different. It keeps you moving, and it keeps things interesting, which is what I really like. And I feel proud to work on a quality product. Also, they pay well. I've gotten multiple raises during my time here and there's also plenty of overtime available if you want it.
Q: How has SRC changed during your time with the company?
SP: Well, it's a whole lot bigger now. And during my time here we did a building expansion here and also added the nuclear program and we're still growing. I don't know exactly how many people we've added but it's been a lot, and we're still hiring. It feels good to know that the customers like the products we make and we're able to grow and expand.
Q: What about when you're not at work – how do you like to spend your time?
SP: My hobbies are singing and fixing cars – mostly for my family. I like to help them out when their cars break down or aren't running well – that's what I like to do on the weekends – when I'm not singing. But mostly I sing. It's mostly Thai and Lao music and I'm in a live band. We play a lot for the community. I also like to work around the house and get my hands dirty. Like, this weekend I need to put a new engine in my car, so that's what I'll be doing. I like Japanese cars – Toyota, Lexus, stuff like that.
I also have eight grandkids – the oldest ones are 8 years old and the youngest is 3. I've been enjoying being a grandpa. It's a lot of fun being with them – and it's important to just be patient and try to teach them the right way.
If you'd like to know more about working at SRC, be sure to stop by our Careers Homepage to learn more about who we are, what we make, and where we work. And stop by our job listings page to see our open positions. Manufacturing experience is preferred, but not required. If you've got a positive attitude and a good work ethic, we'd love to hear from you. Thanks for reading.