Our Spotlight on Super series highlights the SRC team members who help keep SRC a great a place to work and grow. For this installment, we sat down with Sandy Gordon, a nearly 40-year SRC employee who currently holds the title of Sales Account Specialist at SRC's Richmond Division.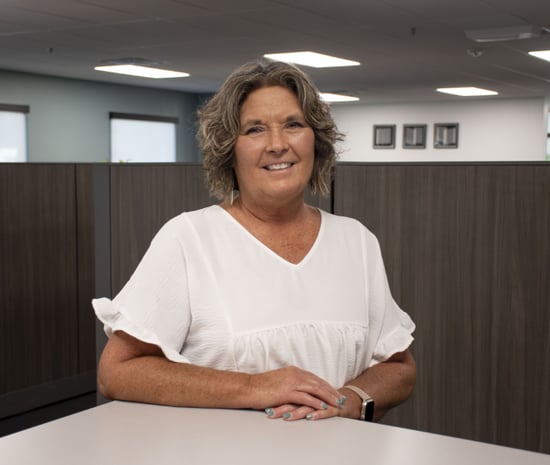 Q: First off, where are you from? Where's home?
SG: I was born and raised in Chesterfield County, and I've been here all my life. This place has really grown up over the years – especially around the plant. There were very few buildings – I think there might have been some across the street but that was just about it. We used to call this part of town the country and it couldn't be farther from that these days.
Q: What's the story of how you came to work at SRC? How'd you find out about this place?
SG: Well, a friend of my mom's worked for a temp agency in the area, and then she ended up getting pregnant and becoming a stay at home mom, but she said, "I know someone – me – that's not going to school, and she's interested." I was just about to graduate high school and I was looking for a job – I had decided that college wasn't the route I wanted to take. I actually interviewed at SRC the same day I graduated from high school, and I got the job. I started on July 2nd, 1984.
Back then, there were about 30 of us working here – that's shop and office (today that number is around 350). But I think there are still six or so people here that were here with me back then.
Q: You've been in your current role for many years – have you held any other roles during your time with the company?
SG: Well, when I was originally hired, I was working in purchasing. I would handle purchase orders – typing them on carbon paper with a typewriter. We did everything by hand back in those days – drafting, all that. I remember when we got our first computer in the office.
I worked in purchasing until around 1990 or '91. After that, I went to the accounting team – doing invoicing, accounts receivable, things like that. Then, after about eight years, they asked me if I wanted to move to the sales engineering team and I said, "yep!" And I've been doing that ever since. It's my favorite job that I've had here. I love it. There have been other opportunities over the years, and I've helped out different departments here and there when they've needed it, but I'm happy where I am.
Q: What is involved in your role? What kind of work do you do on a typical day?
SG: A lot of it is order entry. I do just about all the order entry except for a few accounts. I'll also manage incoming and outgoing transfers between our three plants. There's also a decent amount of customer service. Customers call asking about orders or with general questions about purchases orders, things like that. The main thing I do is support the sales engineers – and other folks too. If I can help, I do what I can.
Q: You've been here almost 40 years – one of the longest tenured employees at the company. How has SRC changed since you started?
SG: The biggest thing is obviously the growth – but also the advancement. Like I said, we had one computer back when I was first starting. And now, between the technology used in drafting, accounting, sales, and all the advanced equipment in the shop – this place is capable of so much more. And the people we've brought in over the years are just so sharp. It's really grown up so much since I started in '84. It's been a lot of fun to see.
Q: What is something about working here that you would want to tell someone considering a career at SRC?
SG: SRC is a great place to work if you're looking for stability, and if you're looking for a place where people genuinely care about each other. It really does feel like family. There's no drama, and people really do care.
And for me, I'm probably here more than I am at home, and I think it's important to care about people when you're around them so much. I definitely get attached to people here, especially in what I do. If you're the type of person who enjoys their job because of the people you do it with, this is a great place to be. Plus, if you want to grow and go far, there are opportunities for that. Or, if you want to come to work and just stay put doing one job, there's a job for you too. Lots of options here.
Q: What about when you're not at work? What are some things you like to do?
SG: I'm pretty boring, I've got to say. I like to stay busy around the house with yard work and that sort of stuff, but I recently moved into a 55+ neighborhood, so now they do that for me, but I do take care of my plants and flowers that I've got outside. I do like to read, I've always been a big reader, and lately I've been doing more traveling. Other than that, I spent most of my time away from work raising a family over the years – I've got one daughter. And I'm getting married in October, and my fiancée is the one who's been getting me into more traveling. And he's got four grandkids, so I'm looking forward to doing the grandparent thing, too.
If you'd like to know more about working at SRC, be sure to stop by our Careers Homepage to learn more about who we are, what we make, and where we work. And stop by our job listings page to see our open positions. Manufacturing experience is preferred, but not required. If you've got a positive attitude and a good work ethic, we'd love to hear from you. Thanks for reading.