Our Spotlight on Super series highlights the SRC team members who help keep SRC a great place to work and grow. For this installment, we sat down with welder and union steward Rob Gutzke, who has worked at SRC for the last 29 years.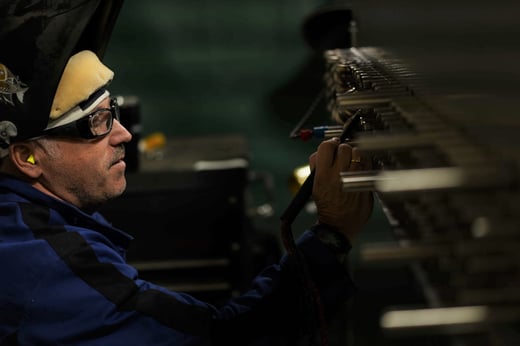 Q: Where are you from, Rob? Where's home?
RG: I'm from Minnesota, originally from New Prague, and now I live up in Prior Lake. I've been there forever. It's about 20 miles from the shop.
Q: Have you always preferred working with your hands?
RG: Yep. I went to trade school after high school, and I actually started with the goal of working in auto body in the military, but they told me I was colorblind. So, I decided not to sign up, and I started taking some night school classes for auto body, but I decided to eventually go into welding, and I've pretty much been a welder ever since. I worked a couple different welding jobs before I joined SRC.
Q: What's a typical day at work look like for you? What kind of stuff do you tend to work on?
RG: Well, you know, it varies, but for the most part I mainly work with stainless steel – I TIG weld pretty much every day. We get some pretty difficult projects here, so I'll work on our ASME products, too. I've got certifications for ASME pipe welding, stuff like that. I also work at our test tank a lot – helping to fix leaks in coils, things like that.
Q: What do you like best about working at SRC? What are some reasons that you've stayed with the company for as long as you have?
RG: For me, it's the stability. In manufacturing, stability is a great thing. It's a good, stable job, there's steady work, and there's lots of overtime available, which is always good. And it's a place that cares about quality, and so there's some pride in being able to work on a quality product.
Q: How has Super Radiator changed during your 29 years with the company?
RG: The growth – that's the biggest thing. There were 25 people working here when I joined SRC and now there's hundreds. And I was the first one in the weld shop, and now that's grown to 20 welders. So, I'd say since I've been here, the growth is definitely the most notable change.
Q: If you were talking to someone who was considering working for Super Radiator, what would you want them to know about the company?
RG: I'd say that we do work together pretty well as a team. The folks that do well here are the ones that have a good attitude and make an effort to learn and gain knowledge. And a lot of the people that we have come I are already majorly skilled at their trade, especially in welding. It's sometimes just a matter of learning what we do and how to apply those skills to the work we do.
Q: What about when you're not welding for SRC? What are some things you like to do in your free time?
RG: Mostly softball, hunting, and fishing. I mostly hunt waterfowl and I do bird taxidermy, too. I really got into that just out of a love for waterfowl hunting. And I was paying too much to have it done by other folks, so my wife said, "why don't you go to school and learn yourself?" It probably took me 50 birds before I really got the hang of it – it's tough. But now I've got some customers that I do taxidermy for – got a federal and state license, all that. And, you know, at SRC our welding is so detailed and so is taxidermy, and I think it kind of goes hand in hand.
And fishing's big for me too – musky, northern, smallmouth, walleye, all that.
If you'd like to know more about working at SRC, be sure to stop by our Careers Homepage to learn more about who we are, what we make, and where we work. And stop by our job listings page to see our open positions. Manufacturing experience is preferred, but not required. If you've got a positive attitude and a good work ethic, we'd love to hear from you. Thanks for reading.