Our Spotlight on Super series highlights the SRC team members who help keep SRC a great a place to work and grow. For this installment, we sat down with Linda Parker, a nearly 30-year SRC employee who currently holds the title of Design Engineer at SRC's Richmond division.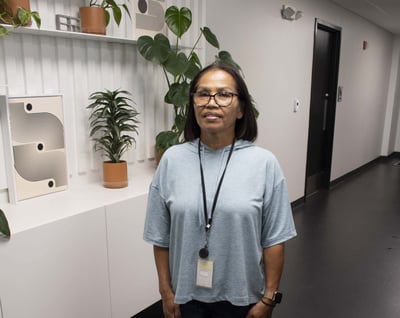 Q: First, where are you from? Where's home?
LP: I'm originally from the Philippines, and I met my husband there. He was in the US Air Force, and he was stationed in the Philippines. Then, he was moved to Guam, and I went with him, and we lived there for a while. Then, he was re-stationed in North Carolina.
Q: What brought you to Virginia?
LP: Well, after my husband left the Air Force, we moved from North Carolina to Virginia – to Petersburg, where my husband got a job working for the government.
Q: How did you come to work for SRC? What's the story of you finding the company?
LP: Well, when we left North Carolina, I had to leave the job I was working there. So, I was keeping my eye on – back then, you looked for jobs in the classified ads in the newspaper – it wasn't like today where you can just look everything up online.
I found a listing for SRC in the newspaper and, to be honest, I was a little skeptical about applying because one of the requirements was being able to lift 50 pounds! I said, "oh my gosh, I don't think I can do that." But I stuck with it and went ahead and applied. And the first time I applied, I was studying to be a nurse at that time, so I had a decision to make. I couldn't really afford to not be working while I was going to school, so I decided to get a job rather than continue with nursing. I had gotten a few licenses but didn't have my RN, and I was raising two kids and needed the income. So, I signed on with SRC and I've been here since.
Q: What's been your career path at SRC? What work were you doing when you first joined the company and how did you work your way into what you're you doing now?
LP: When I first started, I was working in the assembly department. I liked it and it was a great introduction to our products. Knowing how to put everything together is really helpful. After working in assembly, I worked in the press department, then I moved to the quality team where I was doing inspections.
It was great to be able to work in different departments because I really wanted to learn as much as I could about our products and equipment, and I was lucky to have the opportunity to learn as much as I wanted. From the quality team, I moved to the design department, and I've worked there for the last 20 years or so. I really think that working in multiple areas of the shop helps me be the best designer I can be.
Q: What does your role as designer involve? What's a typical day like for you?
LP: Mainly what I do is create drawings of our coils so the shop can build it. There's a lot involved as far as generating drawings, sending them out for customer approval, applying our standards to the drawings, things like that. We also have to do drawings for subcomponents of the coils – like headers, casings, etc. And I work with purchasing quite a bit to make sure we have all the materials we need for the shop to be able to execute on the drawings we generate.
Q: What were you doing for work prior to joining Super Radiator? Have you always held roles in the manufacturing sector?
LP: In North Carolina, I had been working as a machine operator at a textile plant. So, most of what I've done in my career has been in this sort of work – I like to work with my hands, and I enjoy creating things, so I enjoy it.
Q: What is something about working here that you would want to tell someone considering a career at SRC?
LP: The biggest thing I would say is to give this company and this type of work a chance. When I first started, I really didn't know anything about radiators or coils or any of that – and it can be a little intimidating at first if you let it. But I'd say stick with it and be curious, because this is a place where if you work hard and learn, that's really all you need. It's a place that lets you try new things, too, and things don't ever get boring. It's more than learning to build coils. You learn to solve problems, and you learn important skills for making something, and those can apply to really anything.
On top of that, our work connects to so many different things – air conditioning in your house, refrigeration sections at the grocery store – it's just cool to see all the things our products touch.
Q: What about when you're not at work? How do you like to spend your time?
LP: I LOVE gardening, mostly flowers. I'm not saying I'm a good gardener, necessarily, but I like learning. Right now I'm working on building my own raised beds – that's going to be my big project during some vacation this summer. I really like evergreen plants, petunias, hydrangeas, but I also love planting bulbs in the fall, too. If it's a flower, I like it.
I also like spending time with my grandchildren – I've got five. The younger ones are big into sports, and my oldest is a senior at Old Dominion University studying physical therapy.
If you'd like to know more about working at SRC, be sure to stop by our Careers Homepage to learn more about who we are, what we make, and where we work. And stop by our job listings page to see our open positions. Manufacturing experience is preferred, but not required. If you've got a positive attitude and a good work ethic, we'd love to hear from you. Thanks for reading.