Our Spotlight on Super series highlights the SRC team members who help keep SRC a great a place to work and grow. For this installment, we sat down with Kelcie Fisher, a 3+ year SRC employee who currently holds the title of Inventory & Procurement Specialist at SRC's Richmond division.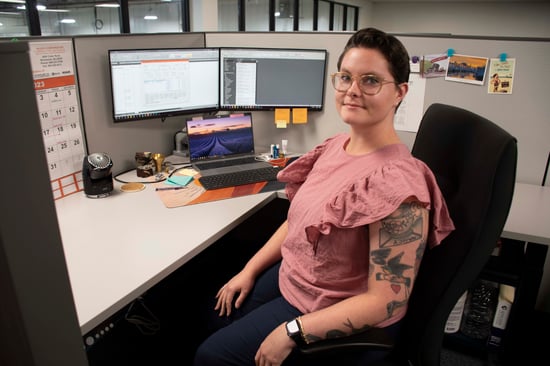 Q: First off, where are you from? Where's home to you?
KF: I'm from the City of Richmond – born and raised. I grew up in the Forest Hill neighborhood and went to Open High School in Oregon Hill. Now I live in the Lakeside area.
Q: And what do you do at SRC? What's your title here?
KF: My title is Inventory & Procurement Specialist, and I've been doing that since May of 2022.
Q: What's involved with your role? What kind of stuff do you do every day?
KF: Most of my job involves working with the purchasing team, the receiving team, and the production team, among others. That includes things like inventory cycle counting, variance reconciliation, material stock location, and process improvement, things like that. And we recently completed a shop expansion and made changes to our facility's layout, so I was very busy during that process – establishing new material locations and getting processes in place for managing and improving them.
I also lead our annual inventory effort, which happens every October. It's great. I really love what I do here. I love problem solving and looking for ways to do things better.
Q: Have you held any other roles during your time at Super Radiator?
KF: I was originally hired as a purchaser. I had assigned product lines that I was responsible for sourcing and maintaining. I like to say you need casings to build a coil, you need fin and tubes to build a coil, and then there's everything else. When I was in purchasing, my job was primarily to buy the "everything else."
Q: Have you always done this kind of work? How did you get involved in the purchasing/inventory world?
KF: Well, during college, I worked for an HVAC contractor in the area, where I did a little bit of everything. At first it was order entry, then I was given more responsibility, which included managing one of their warehouses, which is how I learned I really enjoyed that kind of work.
I went to school for exercise science, and when I graduated, I had to choose either starting a career from scratch in that field or continuing working in inventory and purchasing. I decided I didn't really want to start from nothing all over again, so I stayed with what I'd been doing, and I've been doing it since.
Q: And what's the story of how you came to work at SRC?
KF: I was working in the inventory department of a medical supplies company, and I was contacted by a recruiter who recommended that I apply for the job at SRC, and I decided to give it a try. After a few rounds of interviews, I was offered the job and I accepted. The place I was working at the time was very large and corporate, and during the interview process at Super Radiator, I could tell the vibe here was not like that at all.
I love that even though we've grown a ton since I've been here, it still doesn't feel like a huge company. I'm still able to get face time with my boss, and I don't feel like just a number. It felt like a more relaxed environment, but I could still tell that I was going to come here and work hard. I also had some experience with coils during my time with the HVAC contractor, so there was a little bit of familiarity in that regard.
Q: Based on the experience that you've had at Super Radiator, what is something you think people should know about the company if they're considering working here?
KF: I'd say that as long as you're doing your job and doing it well, a job here can really be whatever you make it. I've felt a great balance of support and autonomy, which has been awesome. I've never felt like I was on my own here, and I feel like I've been set up for success since I've been here. This is the kind of place to come if you want to work hard and contribute to a team. Purchasing plays a big role in our ability to keep our promises we make to customers, and it's a place where hard work is rewarded with opportunities.
Q: What about when you're not at work? How do you like to spend your time?
KF: I LOVE to garden. I've got a big vegetable garden that I'm really proud of. And, during COVID, I got really into houseplants as well – people in my neighborhood would put out free cuttings of houseplants for anyone who wanted them, and I thought, "okay. Let's see if I can get this to grow roots."
I always thought I was the kind of person who would just look at a plant and kill it. It does take a lot of trial and error, but I firmly believe that anyone can do it. There's no such thing as a brown thumb. Right now, I'm doing corn – which I've never done before – I've got asparagus, tomatoes, some pepper plants, and a few others. And my boyfriend has worked in kitchens, so he'll cook a lot of the stuff for us – but gardening is definitely more of my speed – I'm not much of a cook.
If you'd like to know more about working at SRC, be sure to stop by our Careers Homepage to learn more about who we are, what we make, and where we work. And stop by our job listings page to see our open positions. Manufacturing experience is preferred, but not required. If you've got a positive attitude and a good work ethic, we'd love to hear from you. Thanks for reading.