Super Radiator's Phoenix division is our youngest operation, having been in operation since 1992. The Phoenix branch has grown over the years thanks to a committed team of pros that never met a challenge they didn't like. One great example of someone who represents that attitude is Juan Gonzalez, who currently serves as Production Manager for SRC Phoenix, prior to which he held multiple welding roles.
As part of our Spotlight on Super series, we recently sat down with Juan to learn more about who he is, his life experience, his outlook on work, and what he's learned in his 13 years at SRC.
Q: Where are you from, Juan? Where did your story start?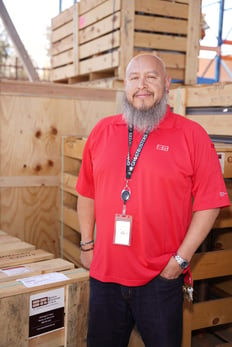 JG: I was born in Texas, but I'd say I'm from Orange County, California. I was pretty much raised in Fullerton, not far from Disneyland.
Since his early days Juan was always curious about how things worked and how to fix them when they broke.
Q: When did you know that you wanted to work with your hands? Have you always had that "mechanical mindset?"
JG: So, my dad was always working on his cars, and that was my interest [as a kid]. I'd always go out there and lay with him, hold the flashlight, you know, "get me this wrench, hold this," and I'd help with oil changes and stuff like that. That's what really got my interest. We had a bond and that love for cars, taking things apart, and fixing stuff is rooted in me.
That love for cars and keeping them running smoothly developed into career aspirations, and Juan set his sights on becoming a mechanic. After taking some classes in high school, he enrolled in college to add to his mechanic skillset with plans to pursue a career in that field after graduating. But, as it tends to do, life had other ideas.
Q: So, you originally had plans to be an auto mechanic, but you ended up going into welding. What's the story there?
JG: In high school I took some welding classes, but it wasn't really something I was interested in. I was more interested in being a mechanic. Then I went to college and took some mechanic classes, but some of the classes I needed to take were full and so I had to fill out my schedule with something else.
So, they said "why don't you try welding?" So, I said "okay, that sounds good. I'll take these for now and then I'll go back to automotive." Then I started taking welding classes and it kind of got my interest – it clicked right away. I was able to pick it up really easily, and my teachers told me, "It's a good career if you want to do it." But I was still interested in becoming a mechanic. But at that point, I had taken all the classes I could until the new ones opened up, and I had to wait. I said, "I'm not going to wait," so I kept on with welding.
After finishing up his time as a welding student, Juan moved to Arizona and took a job teaching the trade he excelled in, serving as a welding instructor for a technical college in the Phoenix area. But after a while, Juan found himself considering moving on to a new challenge.
JG: After a while with that company, I wasn't getting the advancement opportunities I was looking for. It was a small company, and I understood, but my boss told me that if I wanted to look for another job that'd be okay, because he knew there was only so far that I could go there.
A while later, that same supervisor left the technical college to work for…Super Radiator Coils.
JG: It was kind of weird. I had been looking around and I found Super Radiator Coils. So, I went in for an interview and as I'm pulling in, my old supervisor from my old job was pulling out of the [SRC] parking lot. And I didn't know he was working here…so I went in for my interview, it went well and they said we'd be in touch.
Well then, that friend – the one I was interviewing with – sadly, he ended up passing away in a motorcycle accident shortly after that. And I thought that was where it ended as far as me looking for a job at SRC because he was my point of contact.
As it turned out, SRC wanted to hire Juan, but they no longer had his contact information. But, as luck would have it, there was a summer hire at SRC that had worked for Juan at his previous job and still had his phone number. So, they got back in touch, offered Juan a job, and he's been working for Super Radiator ever since.
He came on as a Welding Team Lead, a role he held for 11 years, then was promoted and spent the next year and a half as a Welding Supervisor. Then, in September of 2021, he was promoted to his current role of Production Manager, where he oversees SRC's manufacturing team and production operations. Juan says a point of emphasis for him is to maintain the solid culture that's been built at SRC Phoenix.
Q: What's the culture like here? What's the vibe like in the shop?
JG: Things are running great. When I go out there, I can feel that people are happy. People like coming to work and they like being here. I try to be dedicated to the companies that have given me opportunities and I like being part of this culture and we're building something here that I think is worthy of people's dedication. I don't feel like just another employee here, and I've got a great team of people that I can rely on.
Q: Pretend you're talking to someone who is considering a career at Super Radiator. What is the one thing that you'd want them to know about the company?
JG: This is a place where you can retire. That should tell you a lot. And a lot of the people that are here feel the same way. You can work a long time here, because you're going to enjoy the work that you do. A lot of the guys here go out together after work and stuff like that. We genuinely enjoy each other.
Q: Okay, so that's the "work Juan." What about when you're not at work – what do you do for fun?
JG: I'm still a big car guy – I've got a classic Dodge, a '65 VW Beetle, which was actually my first car. I'm a big fan of the German carmakers: VW, Audi, all those.
And when I'm not working on cars, I do a lot of off-roading in the desert. I've got a side by side that I love taking out, and I like getting out on the water too. And spending time with my two daughters and my wife of 23 years, who I've been with since high school.
---
If you'd like to know more about working at SRC, be sure to stop by our Careers Homepage to learn more about who we are, what we make, and where we work. And stop by our job listings page to see our open positions. Manufacturing experience is preferred, but not required. If you've got a positive attitude and a good work ethic, we'd love to hear from you. Thanks for reading.