It's not uncommon for folks here at SRC to wear more than one hat. That's not to say that we all have a million jobs to do, rather, we believe in teamwork and pitching in to get the important things done. And a lot of the people that work here have professional journeys of similar diversity. One individual that exemplifies both of those traits is Gabe Husted, Safety and HR Specialist at our Phoenix Division. In this post we'll learn more about who Gabe is, the work he does, and how he came to work for SRC.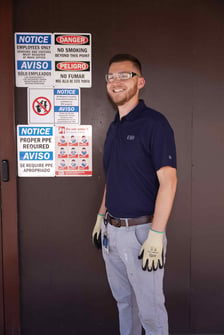 Q: Where are you from, Gabe? Where's home?
GH: I'm originally from California, but then moved to Ohio – just south of Columbus – for nine years and I've been in Phoenix since 2014.
Q: How'd you end up in Phoenix?
GH: So, my grandmother was living here during her retirement and when she eventually passed away, my brother called to tell me he needed help with our mother and handling all the things that come after that. I had flown out to Phoenix the week prior to her passing because we knew it was coming, and when he called me, I told him I couldn't really afford to fly out there again, so I said, "Why don't I just move out there so I can help you guys and then see what happens?" Something just told me it was the right move to make, and I've been here ever since.
After holding a variety of jobs in the Phoenix area, Gabe ended up working at an upscale window manufacturer where he rose through the ranks and honed his skill as a manufacturing professional. Some corporate restructuring at that company led to some hires Gabe didn't agree with, and the culture became untenable. So, Gabe decided to look for a new opportunity. Like several others of the employees we've profiled, word of mouth was responsible for Gabe's first exposure to SRC.
Q: What brought you to Super Radiator Coils?
GH: One of the guys who works at SRC now used to work with me at my old job. And once he'd left and I was still there, he kept calling and telling me "You have to come work for this company. It is amazing." And it's funny – at first, I thought it was a company that made car radiators and I told him that I wasn't interested, but then he told me, "That's not even close to what we do."
At the time, I had my sights set on working for SpaceX, and when my friend at SRC called me telling me to come work there, I was about to start a road trip that would go through the SpaceX facility in Brownsville, Texas and down to the facility in Cocoa Beach, Florida. But right before I was about to leave, they shut the Cocoa Beach site down. So, I canceled that trip and called my friend at SRC. He asked if I could start at the beginning of the year and I said I could, and the rest is sort of history. I don't regret anything.
Q: When you first came on with SRC, what was your role?
GH: So, I joined SRC in January of 2020. At first, it was a toss up between assisting with the inventory management or building the safety culture of the division. And my supervisors at the time decided it was best to build on our safety. I spent some of the time learning how the team did things here before making changes or improvements. Then, COVID hit, and a lot of my job became working through that with management's support. It was 50% or more of my job each day during that time – making sure we were staying up to date on the latest CDC guidelines, the latest OSHA guidelines, daily updates, we were all doing that stuff religiously.
Q: As we come out on the other side of the pandemic, what has most of your work consisted of?
GH: These days, it's been more of the standard safety-related work, HR, and mobile equipment maintenance oversight. And the Phoenix division has undergone some pretty big changes. We're hiring tons of people, and so part of what I do now is manage some of that onboarding and training process. And as we hire new people, safety protocols become even more important. And I'm proud that we've been able to maintain a low accident rate while staying productive. We've still got a long way to go, but we're holding our own and it's a really positive environment to thrive in.
Q: As someone who's involved in the hiring and onboarding process, what are some traits that you look for in folks who apply to work here?
GH: It's not so much directly applicable experience that we look for. It's more so personality traits – are you coachable? Do you have a good work ethic? Do you have a positive attitude? Take myself, for example. In my work experience, I really just learned as I went, but I had the attitude of "let's do it, let's learn it." Attitude will get you a long way. And a lot of our team here is phenomenal.
Q: If you could tell a new employee or someone who's considering working at SRC one thing about working here, what would it be?
GH: I'd say that it goes right along with teamwork. At SRC, we have the luxury of knowing that the team has your back, and you can know that you won't ever be set up to fail. But with that comes the expectation of effort. We put the work in here, but we also get rewarded for a job well done. There's a good balance here.
Q: So, that's the story of the 'work' Gabe. What about when you're not working – what are some things you like to do?
GH: I'm still pretty big into percussion and music. I was in several music ensembles including a World Class Indoor Drumline growing up and did a lot of percussion teaching when I was in Ohio. So, I still keep in touch with some of the guys who are in those groups and give them some critiques on their shows and musicality that could be adjusted and fine-tuned.
I have been one of the coaches for my son's baseball team for a couple years now which they just ended this past regular season undefeated. I love instilling how to not only play but more important than anything is how to carry yourself and treat others with the utmost respect and highest level of sportsmanship, then how to work hard and see the hours of quality practicing have a huge impact down the road. I love spending time with my wife, daughters, and son helping them where I can but also watching them become more independent as they get older.
---
If you'd like to know more about working at SRC, be sure to stop by our Careers Homepage to learn more about who we are, what we make, and where we work. And stop by our job listings page to see our open positions. Manufacturing experience is preferred, but not required. If you've got a positive attitude and a good work ethic, we'd love to hear from you. Thanks for reading.