Our manufacturing talent comes from all over the map and from a wide range of industries. One of our best examples of both of those dynamics is Danny Lorentzen, Master Scheduler at SRC's Phoenix Division. In this post, we'll learn more about who Danny is, what he does at Super, and the journey that led him to 2610 S. 21st St.
Q: Alright, first things first. Where are you from, Danny? Where's home?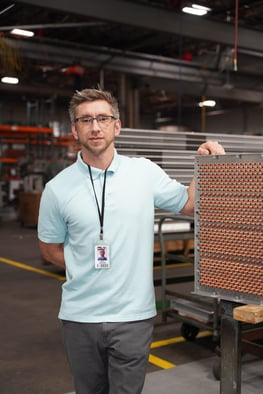 DL: So, I was born in San Diego – military child – and then we were transferred to up to Bremerton, Washington and I was raised there until I was about 18, but this [Phoenix] is home now for sure.
Prior to his time at SRC, Danny worked in the shipbuilding industry in the Pacific Northwest, serving as a welder and working on vessels destined for one of the harshest environments on Earth – the Bering Sea.
Q: What did you do for work before you came to Super Radiator Coils?
DL: I was a shipbuilder up in Washington and we used to build and repair ships and that skillset is what's gotten me to where I am today. We mainly worked on commercial fishing vessels, but we also did tugboats. And we also did ore barges that went up to Alaska, we did research boats, yachts – pretty much anything that floats.
So, up there you only work about six or seven months out of the year and during that time you're pretty much working 10 hours a day seven days a week. It was a big-time grind, but then you get four or five months off and it makes it all worth it.
Q: So, what brought you to Phoenix?
DL: When I first moved to Phoenix, I was really attached to the shipyard, I mean that job was incredible. I just did not want to let it go, but I also wanted to make my wife happy. And she wanted to go to better weather and so we moved down here, got all situated and then I went to go back up to the shipyard and work for the winter.
Q: So, you got family set up down here and you were still on that shipbuilding schedule. How did you end up working for SRC?
DL: When I came down to Arizona, I had this background in operating brake presses, welding, just metal fabrication in general and they don't have ships in Arizona, so I got a couple fabricating jobs and I had this job I really liked where I was fabricating one-off pieces and prototype designs for aerospace customers. And that was a lot of fun, but it just didn't pay very well. Then I got a call from a staffing agency out of the blue one day. I wasn't looking for a job, but apparently, they found my resume online and they said, "hey, we've got a company out in the valley here that we think you might like."
And the company was SRC, and they were going to pay me more and, at that time, money was a big priority for me because I had small kids and I agreed to do a weld test and interview and I was just absolutely blown away by the facility. I thought it was the cleanest facility I'd ever seen metal-wise, and the work looked really interesting, so I did the weld test, ended up taking the job and I haven't looked back since. I'm just glad that mysterious phone call came through my phone, and I ended up taking the call, because I'm doing really cool work and I'm on a trajectory to work here for the rest of my career.
Q: What was your role when you first signed on with SRC and what jobs have you held in the time since?
DL: So, I started here just as a structural welder, where I was MIG welding and doing nothing other than structural welding for the air coolers. And I did that for a couple years, but focus on that product line sort of shifted, so they transitioned me more into TIG welding pipe and then onto TIG welding on coils, which was something I didn't have too much experience in. But over time I got pretty good.
Then I transitioned to a role of special projects coordinator, where I focused on our ERP software, which turned out to be useful because at that time we were transitioning into some code-heavy military work that involved a lot of paperwork, so I was helping with that. And then there was a need for a second-shift supervisor, and I took them up on that and figured this was my chance to move up in the company. And it paid off because since then I've been able to move to first shift working as Master Scheduler and the company's kicking butt.
Q: You've held several roles here, so you've gotten to see several facets of the business. Based on that experience, what are some words you'd use to describe SRC?
DL: I'd say resilient. We can take anything that's thrown our way. I feel like we can take on any obstacle – manpower-wise, pandemic, whatever you throw at us, we are going to tackle that problem. We don't see these things as obstacles, we see them as opportunities. And those opportunities we've presented with have made us into the division that we are now and the one that we're striving toward in the future.
Q: Similarly, what's something you would say to someone who's considering working for Super Radiator?
DL: When I hire people, my message to people that are coming in is – I don't know if you'd say it's a once in a lifetime opportunity to come across a company like this, but in my experiences, I've never found a company as dedicated to its employees as this one. This company cares about the people that work here, their family, and the company does everything it can to support people in their journey. We want to provide you with a skill – whatever it is that you want to learn, so that way they're successful in their career, even after SRC.
Q: So, that covers the work side of things. What about outside of work? What do you like to do for fun?
DL: I'm a big car guy, I've got a love for BMW M cars, and it's my daily driver and I just love it to death.
---
If you'd like to know more about working at SRC, be sure to stop by our Careers Homepage to learn more about who we are, what we make, and where we work. And stop by our job listings page to see our open positions. Manufacturing experience is preferred, but not required. If you've got a positive attitude and a good work ethic, we'd love to hear from you. Thanks for reading.