Our Spotlight on Super series highlights the SRC team members who help keep SRC a great place to work and grow. For this installment, we sat down with Cheryl Rowe, who has spent 19 years at SRC's Chaska Division, holding the role of shipping clerk for the last 12.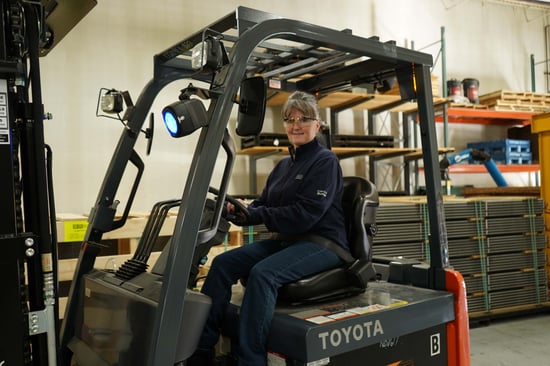 Q: First things first – where are you from? Where's home?
CR: I'm from North Dakota originally, and I actually took my job with Super two weeks after I moved to Minnesota. There just weren't a ton of opportunities in North Dakota, so I moved down here looking for some more opportunities.
Q: How did you get into the manufacturing world? Have you always been someone who likes to work with their hands?
CR: Well, I was a country girl growing up – drove tractors, that sort of thing. Then I joined the military, where I was for 11 years as a heavy equipment operator. I'd also held a couple summer jobs in manufacturing, so when I left the military, going into manufacturing wasn't a huge change.
Q: How did you come to learn about Super Radiator? What's the story of how you started working here?
CR: It was the good, old fashioned job service line. So, Job Service of Minnesota used to be the way that you found jobs. Like, there's Indeed now, and the job service was sort of the 1990s/early 2000s version. So, SRC had listed that they were looking for workers, and so I first applied in 2003 and they brought me in for an interview and I started the next day. I was hired by an ex-marine, too, so I had that connection right away.
I was hired into assembly and moved around to pretty much everywhere in the shop. If an opportunity opened up, I wanted to learn it and SRC gives you those sorts of opportunities. I'm certified in brazing, I've run the bender, and lots of other stuff and I really feel like I found a good fit with shipping.
Q: What is involved in your role? What sort of things does an SRC shipping clerk do every day?
CR: So, what I do is create the crating labels, I call the trucks, I negotiate pricing with carriers, that sort of thing. There's a lot of negotiating, a lot of getting coils ready to ship, and then I load the trucks too. There's quite a bit of customer service between building relationships with freight carriers and things like that. I'm one of the last people to see the product before it ships, so it's my job to make sure that the hard work our manufacturing team does arrives safely and to the right location.
Q: In your 19 years with SRC, how has the business changed? What's different about working here now as opposed to 2003 when you started?
CR: The first thing that comes to mind, of course, is the growth. I don't know how many customers we had when I started, but when you're here for as long as I've been, we've just got so many more customers now – which is good, because it means our products are being sold and people value what we make. And learning about who our customers are is very interesting to me, too.
I was also here when we added the ASME N Stamp, which was amazing – just to be one of three coil plants that have that title, it makes you feel proud. I'm getting goosebumps just talking about it. And I am certified for nuclear brazing, too, so just to be a part of that family is really amazing.
Q: If you were speaking to someone who was considering SRC as an employer, what would you want them to know about the company?
CR: Super Radiator Coils is a very family-oriented, tight-knit group. I feel like there are opportunities for growth and there are opportunities to learn different things. For instance, someone could come in as an assembler and if assembly isn't for them, there are plenty of other job areas that may be a better fit. Look at me – I never thought I'd be a shipping clerk, but here I am, and I love it.
Q: And what about when you're not working the shipping desk at SRC? What are some things you like to do outside of work?
CR: I'm a big car person, so I love going to car shows – I'm a big fan of muscle cars – especially Mopar: Dodge, Chrysler, that sort of stuff. I'm also a big sports fan. My husband and I love watching NASCAR, football, baseball, all that. I haven't yet been to a cup series NASCAR race, but it's on my bucket list.
If you'd like to know more about working at SRC, be sure to stop by our Careers Homepage to learn more about who we are, what we make, and where we work. And stop by our job listings page to see our open positions. Manufacturing experience is preferred, but not required. If you've got a positive attitude and a good work ethic, we'd love to hear from you. Thanks for reading.