At Super Radiator Coils' Phoenix Division, you'd be hard pressed to find an employee with a longer tenure than Press Lead Calvin Johnson. SRC Phoenix customers and employees alike have benefitted from Calvin's hard work for nearly 30 years, and his consistent reliability has been a boon to the Phoenix division.
As part of our Spotlight on Super series, we recently sat down with Calvin to learn more about who he is, his life experience, his outlook on work, and what he's learned during his 29 years at SRC.
Q: Where are from originally?
CJ: I'm originally from Florida near West Palm Beach – a town called Delray Beach in Palm Beach County. That's my home.
In high school, Calvin excelled in wood shop, taking enjoyment in working with his hands to create something. After high school, Calvin found himself faced with two choices: go to school or join the military. Rather than risk being drafted to fight in Vietnam, Calvin enlisted into the Air Force, where he put his mechanical inclinations to work in service to the country.
CJ: I went into the military as an aircraft mechanic…working on inspections and stuff like that. Then I worked on the flight line where we launched recovery aircraft. I also worked at a facility in Iceland where we launched aircraft…I was in Germany (Zweibrucken AF Base) for three and a half years, Iceland, and California working on the stealth program as a mechanic.
After 21 years in the Air Force, Calvin retired with the rank of Master Sergeant. After enjoying the retired life, Calvin rejoined the workforce and relished the chance to stay in place for a while.
Q: That service to civilian transition can be a big change. What was the plan after you left the service?
CJ: After I retired from the Air Force, I really just wanted to do nothing for a while. Then, I went to work for a military contractor for about three and half years, and then I came here to SRC, and I've been here ever since – about 29 years.
Calvin's tenure goes back almost to the establishment of SRC Phoenix. And, in those days, the shop personnel tended to wear several hats.
Q: Tell me about your early days with SRC. What was it like back then?
CJ: When the company first started up, we had to do a little bit of everything. I started out degreasing coils, then went on to work in testing and assembly, all that. The only thing I didn't do was brazing – I wasn't any good at that. I'd help build a coil and then I'd go to the crating department and help build the crate to ship it.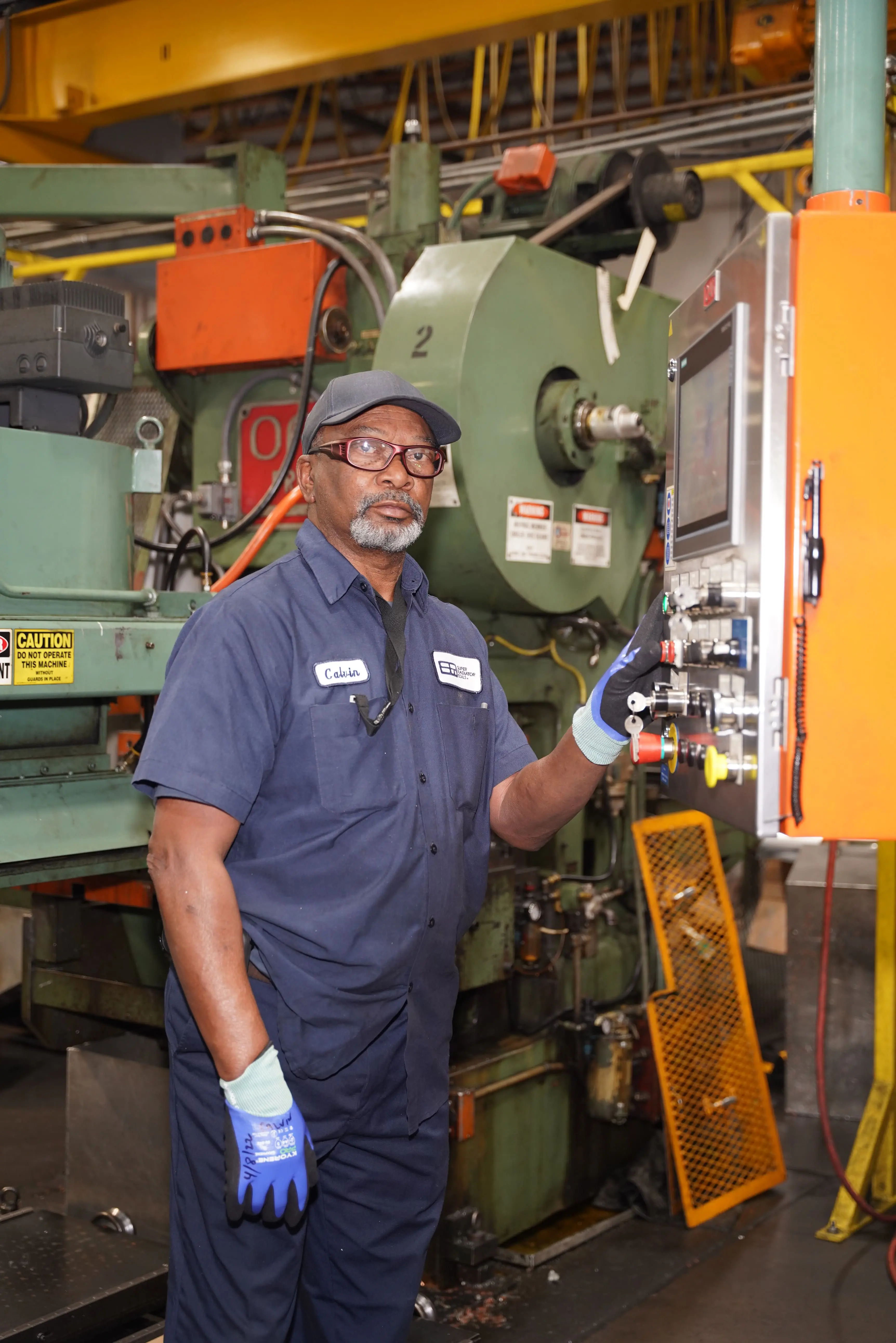 Q: Fast-forward 29 years and you've got a few less hats to wear but you're still at SRC. What is it about working here that's led you to stay for so many years?
CJ: Honestly, at first, I signed on just because it was a job. Then I got here, and I liked the people and I saw a future here, so I wanted to do everything I could to help the company. The Holts are good people and they've treated us well, and this company really does bend over backwards to keep people happy. And I like coming to work and solving problems. I've learned that being persistent and being a team player is the best way to go about the work here. I stay persistent in my area and do the best I can, but if I need to go and help out someone else, I'm willing to do that – except for swing shift. I did that for about 5 years and when I got off swing shift, I said, "I'm not going back to swing shift, I'm going to stay on days."
Q: What about when you're not working? What do you like to do?
CJ: I like spending time with my grandkids – they're 7 and 5 and live about 10 minutes away from me so we get to do stuff like go to the aquarium, which we did last weekend. I also like to fish, but the desert's not that conducive to fishing. You have to drive a little bit around here. But for the most part, I'm relaxing and enjoying my time off when I'm not at work.
Q: Last question – if you had to choose a few words to describe your time at SRC, what would they be?
CJ: I'd say challenging but rewarding. If you show up and work hard with a good attitude, the rest will take care of itself. It's a good place to work.
---
If you'd like to know more about working at SRC, be sure to stop by our Careers Homepage to learn more about who we are, what we make, and where we work. And stop by our job listings page to see our open positions. Manufacturing experience is preferred, but not required. If you've got a positive attitude and a good work ethic, we'd love to hear from you. Thanks for reading.