Our Spotlight on Super series highlights the SRC team members who help keep SRC a great a place to work and grow. For this installment, we sat down with Bac Nguyen, a 17-year SRC employee who currently holds the title of coil brazing lead at SRC's Chaska division.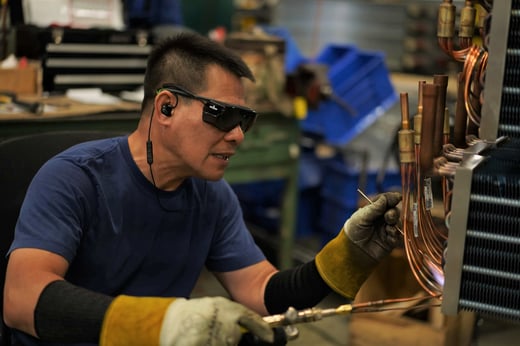 Q: First off, where are you from, Bac?
BN: Originally, I'm from Saigon, in south Vietnam. I was there for about 19 years before I had to escape fighting that was happening there. I escaped to Thailand, where I lived for about six months. After that, I went to the Philippines for eight months. Then, I applied to get into the US as a refugee, and after that I came to California and was there for about a year. After that I came to Minnesota, and I've been here ever since.
Q: How did you first come to learn about SRC? What's the story of how you got your job?
BN: I was referred by a friend. My friend who referred me had worked with me at my last job, and he took a job at SRC. Then, the place I was working closed, which meant I needed to find a new job. So, my friend said, "hey, come work with me." So, I decided to join SRC, and I've been here ever since.
Q: What sorts of roles have you held during your time at SRC?
BN: I've held a bunch of different jobs here. When I first came here, I ran the press. That was the first job I did here. I did that for about six or seven months, and after that they needed someone to join the coil brazing team working on some of the bigger coils for about a year or so. Then I moved to the smaller coils for three or four years. After that they listed a job for a quality inspector, and I did that for about a year, too. I also helped manage the carbon adsorption system and helped with the degreasing process, water chemistry in our test tanks, and some other things like that.
Then, I went back to coil brazing, which is where I am now, and I still serve as backup for quality inspector, too. I just got promoted a few weeks ago to lead in coil brazing, so I've been doing that lately.
Q: How has SRC changed during your 17 years with the company?
BN: It's really changed a lot – especially from when I first started. Back then, there were only maybe 30 or 40 people. Now it seems like there are upgrades every single year. Whether that's new machines that help us make our products better and faster or new chairs and stuff that make the job more comfortable. It's really changed a lot, but they care about us here. It's been easier on my body, too, as I get older.
Q: What do you enjoy about your job? What are some of the reasons that you've stayed with the company for going on 20 years?
BN: I love how they encourage you to learn. Since I've been here, I've just tried to learn, learn, learn as much as I can. I've been able to train in many different departments on the shop floor, so I feel like I can go wherever they need me. I've worked hard to be as well-rounded as I can. And the more I learn and the more I can do means that I can make more money, and that's always nice. But it feels good to be able to help where they need me. But coil brazing – where I am now – is probably my favorite.
Q: If you were talking to someone who was considering SRC as an employer, what would you want them to know about the company?
BN: I would definitely recommend working here. There's a lot of good people here and if you have a good attitude and want to learn, it's a good place to be. I've learned a ton during my time here and it's been a good place for me. You can learn and grow here. I'm planning to stay here as long as I can. I like it here.
Q: What about when you're not at work? What are some things you like to do in your free time?
BN: I'm into exercise, so when I'm not at SRC I like to work out. I also really enjoy time with family at night and work around the house on the weekends and things like that. I also became a grandparent about a year ago, and my daughter just recently had another baby – a girl. It's been a lot of fun spending time with them. Family is very important to me.
If you'd like to know more about working at SRC, be sure to stop by our Careers Homepage to learn more about who we are, what we make, and where we work. And stop by our job listings page to see our open positions. Manufacturing experience is preferred, but not required. If you've got a positive attitude and a good work ethic, we'd love to hear from you. Thanks for reading.