Our Spotlight on Super series highlights the SRC team members who help keep SRC a great a place to work and grow. For this installment, we sat down with Sheridan Irvine, a 2+ year SRC employee who currently holds the title of Senior Value Stream Supervisor at SRC's Richmond division.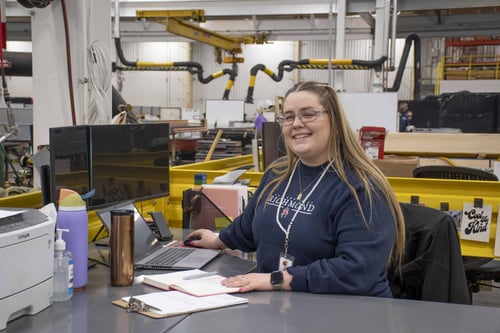 Q: First things first – where are you from? You've been all over, right?
SI: I was born in Alaska. My dad was in the army, and when he got out, he reenlisted in the Air Force and was stationed in Fairbanks, Alaska. I lived there until I was around 11. I like to say I had a magical childhood – we'd sled during recess, and there were northern lights, all that. After we left Alaska, we moved to Southern California. So, I'd probably say I'm from California, but born in Alaska.
Q: And what's the story of you coming to Virginia and SRC? How'd you find your way to this part of the country?
SI: I graduate from San Diego State University and moved to Northern Virginia for a role in project management in a government facility. I thought that was the kind of thing I wanted to do, but after a little while I realized that it wasn't something I wanted to do long term. So, I decided to move onto something else and started looking for something a little closer to Richmond because I have family down here. I was always coming down to visit anyway, so I started looking for jobs.
Anyway, I saw a LinkedIn post from a staffing firm that had very little information, actually – but they were looking for mechanical engineers with a design background and it was clear it was a growing company, but then I figured out it was SRC. I did a couple phone interviews, then a couple in-person ones, and I started getting excited about the opportunity. It seemed more like something I wanted to do. I loved the place, loved the people, and got an offer and accepted. It all moved quick. I decided I wanted a change in late February, and by March I was packing up and heading to Richmond.
Q: How did you learn that you had a passion for engineering? Have you always had an interest in how things work?
SI: As a kid, I always wanted to know why things happened or how things worked. I would take apart doorknobs and put them back together – sometimes successfully, sometimes not – but then in high school, I flip-flopped a lot as far as what I wanted to do and what I wanted to go to college for, then during my junior year we had to take a career compatibility assessment quiz. So, I took that, and my number one compatibility was engineering, and I had never even thought about that possibility.
I didn't even really know what it meant to be an engineer – I still don't think I know what it means – but I did well in school, especially the math and science side of things. And I've always been interested in problem solving, so I decided to give that career path a try – mechanical engineering, because it seemed like the most versatile discipline.
Q: You'd held a few different roles during your time with the company before your recent promotion. What were they and what did they involve?
SI: I started as SRC in March of 2021 as a design engineer, a role I held for about a year. And one of the things I love about having worked in that role is being able to pull what I learned from design and reading our drawings and applying it when I'm out on the floor. It gave me a great baseline understanding for how our products are put together and why we design them the way they do. After that role, I moved into production supervisor for our header department, and during that time I was just trying to learn as much as I could. I did that for about year and then picked up responsibility for our offsite warehouse as well. And now, recently, I've taken on the role of Senior Value Stream Supervisor.
Q: As a supervisor, what are your responsibilities? What's a typical day like in your role?
SI: I'd say that the one constant is that it's inconsistent – which is part of what I love about it. Things never get stagnant, and I feel like I'm always learning. It's a lot of navigating things on the floor as they happen. There are things you do every day, of course, like checking on your numbers, making sure we're staying on schedule, those sorts of things, but I think the biggest thing is that things come up, and I enjoy the challenge of digging into problems when they come and solving them.
And a lot of it is working with our people – getting to know them, making sure the leads and other team members have everything they need – management-type work like that, but at the end of the day, it's all about solving problems.
Q: What is something about working here that you would want to tell someone considering a career at SRC?
SI: SRC is the place to come if you want to always be learning something new. Since I've been here, there's just been a near-constant influx of knowledge, and what I've learned has allowed me to move into new areas and pursue different roles that I really hadn't considered. If you're looking for a job that genuinely wants you to thrive professionally and encourages that while also caring about you as a person, SRC is the place.
Q: What about when you're not at work? What are some things you like to do?
SI: I'm pretty active with my church, so I like to volunteer with them and hang out with people from church. I've also got a lot of really great friends from work, and we'll get together outside of work. I'm also enjoying getting to know Richmond and all that it's got to offer – I love going to new places. I also really enjoy listening to music, going to thrift stores, coffee shops, all that stuff.
If you'd like to know more about working at SRC, be sure to stop by our Careers Homepage to learn more about who we are, what we make, and where we work. And stop by our job listings page to see our open positions. Manufacturing experience is preferred, but not required. If you've got a positive attitude and a good work ethic, we'd love to hear from you. Thanks for reading.