Our Spotlight on Super series highlights the SRC team members who help keep SRC a great place to work and grow. Several of the people we've spotlighted mentioned that they love working at SRC because of how clean and organized the facility is. Well, for this installment, we spoke with the man in charge of keeping it that way – Sam Webster, who has been the janitor at SRC Chaska for the last 19 years.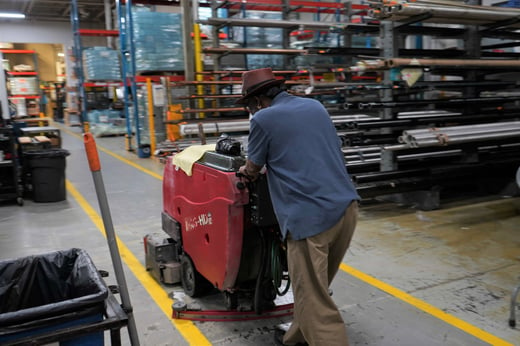 Q: Where are you from originally, Sam?
SW: I'm from Mississippi – the delta. After I left Mississippi, I came to Chicago and lived there for 30 years. After that I came here.
Q: How'd you come to work in janitorial and facilities maintenance-type work?
SW: In Chicago, I worked in die cutting and I came to Minnesota to pursue a job like that. And when I went to rent an apartment, the property management company told me they'd been looking for someone to help with maintenance at their properties. So, I joined on as a building supervisor and worked for them for about 8 or 9 years. And after that, I didn't go back to die cutting.
Q: So, how did you end up working for SRC? What's that story?
Well, after a little while of working as a maintenance supervisor here and there, I decided to open my own place part-time, called Sam's Floor Care. I used to do the final cleanings for townhouses and things like that in the area. And to make some more money I'd signed up with a group that would give me a call when they had a company that needed a little work done. And one of the jobs they had was at Super Radiator. And I talked to Rob Holt and Jim DeWitt and they had confidence in me and I could tell they were good people, and I've been here ever since.
Q: Tell me a little bit about what it's like working as a janitor in a manufacturing facility. What's a day in the life like?
SW: Well, it's a lot different than most janitor jobs that's for sure. Here, you work directly with the people. Most other places, you'd be cleaning up after they close up shop for the day, but here I'm working before the people get in and when the people are here, too.
Q: What do you like best about working at SRC? What are some reasons why you've stayed for almost 20 years?
SW: I'm loyal to this company because of the way that I've been treated. I can look at a person – or a company – and tell if they've got a good heart or not. And I felt like it was a part of my life and I felt that God put me here. SRC needed me and I needed SRC. And my mother always liked to tell me, "if you keep something clean, good things will happen." It all starts with having nice surroundings. I felt that if I helped keep this place clean, good things would follow – the company would grow and really be something special. And I felt I had to do that because of how nice everyone was to me. But, it's got to be clean! It sets the tone.
Q: If you were talking to someone who was considering working for SRC, what is something you would want them to know about the company?
SW: To answer that question, first I've got to share a little bit about me. My father was a sharecropper. When you read about the history of black folks, my family and I are a part of what you read. I'm an older man, and I've held many jobs, and faced a lot of discrimination over my life, and I'm glad I came here. Because that means I won't die thinking that everyone and every business is the same.
Ever since I've been here, I've been treated like a member of the family. And I've never had to worry about if I was appreciated or not because the people here show it. The folks at SRC are the type of people who care for each other. I love this company and I have nothing but good things to say about it.
Q: What about when you're not keeping a SRC a nice, clean place to work?
SW: Not too much, really. My purpose is working. I lost my wife five years ago, and when she was here, she did everything – paid all the bills, all of that and all I did was work. I believe that a man has to have a purpose and has got to work toward something productive. For me, that's work.
If you'd like to know more about working at SRC, be sure to stop by our Careers Homepage to learn more about who we are, what we make, and where we work. And stop by our job listings page to see our open positions. Manufacturing experience is preferred, but not required. If you've got a positive attitude and a good work ethic, we'd love to hear from you. Thanks for reading.